#MallorcaReacciona
€800,000 in aid from the Council of Mallorca for self-employed entrepreneurs and micro enterprises to reduce the economic impact of COVID-19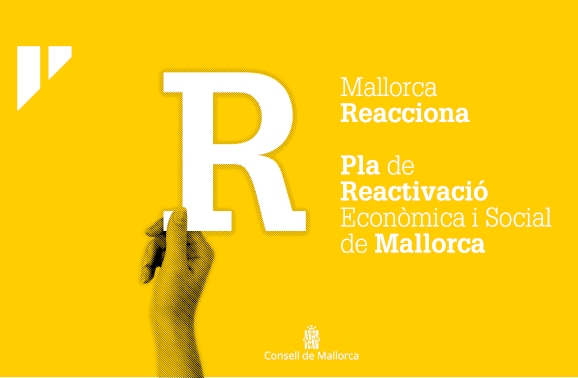 Who can apply for subsidies?
The beneficaries of these subsidies must fulfill the following requirements:
Self-employed entreprenuers subscribed to the special Social Security scheme for self-employed workers or legal entities validly constituted and actively registered for tax purposes.




With a registered fiscal address in Mallorca.


Registered in any of the IAE headings.


Having no more than five contracted employees before the declaration of the State of Alarm.


That no incompatibilities for accessing public subsidies exist and that all obligations with the Central Tax Agency, the Social Security Treasury (TGSS) and the Council of Mallorca are up-to-date and paid.


That the eligible expenditure has been, in effect, spent (acquired and paid for) between the period 14th March 2020 and 28th February 2021.


That all the safety protocols and measures to reduce health and hygiene risks for COVID-19 recommended for your activity have been fulfilled and that those products acquired that need approval comply with official standards and current legislation.
Which costs are being subsidised?
Subsidised costs are considered to be those made in the process of adapting economic activity to Order SND/388/2020 of 3rd May, and those incurred adapting economic activity to new consumer habits resulting from the effects of COVID-19.
Line 1
Products for individual protection: masks, face screens, gloves, eye protection, protective clothing and hydroalcoholic gel.

Products for protection inside the establishment: viricidal products, surface disinfectants, screens and shields or similar.

Signage elements inside the establishment: vinyl, duct tape, adhesive for the floor etc

Training & advice on how to comply with the safety and hygiene protocols and steps to implement for the reduction of health & hygiene risks of COVID-19 in carrying out your activity.

Securing the official seal of "Trust & Compliance" as a sign of commitment to generate market trust or another sign of recognition from the Ministry of Health specifically created for a particular activity.
Line 2
Technological Instruments to adapt the activity to new consumer habits: computer, tablet, client management programmes or apps to control occupancy amongst others.

Cleaning and disinfectant products for merchandise, surfaces and spaces.
Maximum subsidised amount
The maximum sum that can be subsidised per beneficiary is €1,000 independently of whether both lines are applied for. VAT is not deductible if the applicant compensates and deduces recoverable from receivable vat.
How do I submit my request for subsidies?
Applications Deadline
From 4th June 2020 until the extraordinary budget has been exhausted or until 28th Februrary 2021.
Subsidies will be allocated until the extraordinary budget runs out, following the order in which applications are registered or elimination of deficiencies.
Submission Address
General Registry of the Council of Mallorca, Palma. From 9h to 14h in the following offices:

Palau del Consell: C/ Palau Reial, 1
Llar de la Joventut: C/ General Riera, 111
Centre Cultural La Misericòrdia: Plaza del Hospital, 4



Or in any of the registries established in article 16.4 of Law 39/2015, of 1st October, following common administrative procedure of the public administration bodies (Town Hall of Mallorca, Ministries of the Regional Govt etc)
Documentation to enclose in your request for subsidies
Request form for subsidies (Annex 2) filled in and signed by the interested person or legal representative of the applicant company.

Photocopy of National ID Card (DNI) or Foreign ID Nº (NIE) of the applicant person. Or photocopy of the National ID Card or Foreign ID Nº of the legal representative of the applicant company and Tax Nº (CIF) of the same.

Documentation proving you are the holder of a bank account in which to receive payment of the grant (the same one provided in Annex 2).

Responsible Declaration (Annex 3) signed and sealed by the interested party or legal representative of the applicant company.

Simplified Supporting Account (Annex 4).

The invoices corresponding to the items for which the subsidy is being requested and proof of payment of said invoices.
Council of Mallorca Electronic HQ
AddressEstudi General, 7
07001 PALMA (Mallorca)
Illes Balears - SPAIN

Call us on(+34) 971 71 01 88



Emailinfo@cambramallorca.com