Mentoring
The Chamber of Commerce's mentoring program is a free service for entrepreneurs and small and medium-sized entrepreneurs.
In collaboration with SECOT, senior advisors of recognized solvency offer follow-up sessions to review the management, development and promotion of the mentored businesses, whether or not they are in operation.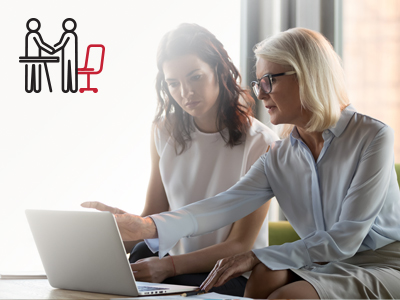 Senior accompaniment
The mentoring program is developed thanks to the collaboration of Seniors for Technical Cooperation (SECOT), a non-profit association made up of senior volunteers: qualified retirees, pre-retired or active professionals who, altruistically and objectively, want to offer their experience and knowledge in business management to those who need it.
Today, a dozen mentors, in an altruistic way, attend business projects in different phases of their life cycle: those that are in their beginnings, with a clear commitment of the entrepreneur or those that need to be relaunched through a review of the business model.
If you want to request the mentoring service, fill out the form (red button 'make an appointment') and we will contact you as soon as possible.
SECOT Baleares
The SECOT delegation in the Balearic Islands is based in the Chamber of Commerce and its board of directors is chaired by Ricardo Moreno. The executive is completed by Iñaki Miranda, vice president; Manuel Navarro, treasurer and Antoni Sora, secretary.
The SECOT and the Chamber of Mallorca share the will to contribute to promoting business activity and that of new entrepreneurs. From the field of business guidance, we work together to provide added value in the development and consolidation of business projects in Mallorca. The ultimate goal is to contribute, as far as possible, to generate a favorable and socially responsible ecosystem for companies on the island.
Ask for an appointment